Build your professional ePortfolio in English
December 14, 2018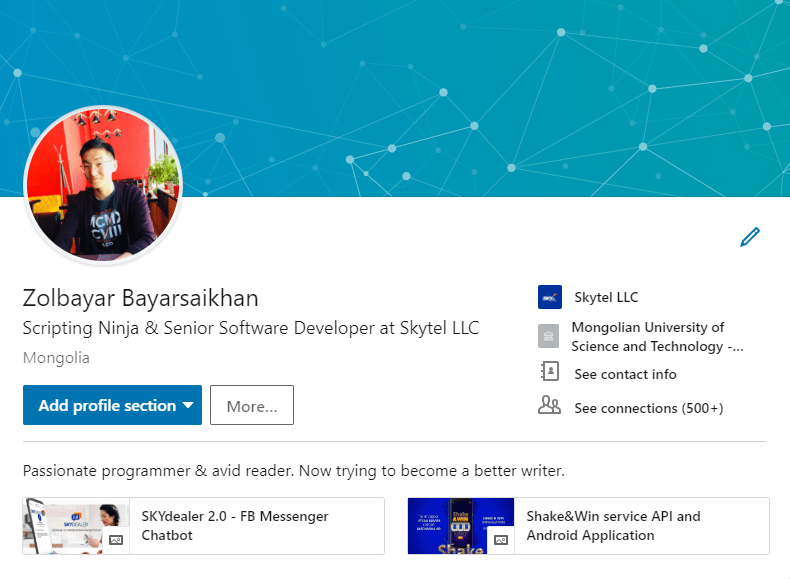 My ePortfolio in Linkedin
An efficient ePortfolio might be the best online investment you can make without spending a dime. Just tend your LinkedIn occasionally as if it were your garden. 
Here are some tips you can apply from the Georgia Tech's "Build your professional ePortfolio in English" course.
Headline
1. Job Title
It's different from the Fields of Study _such as Engineering, Mathematics, and Computer Science. Most job titles end with -ian, -ant, -er, ist _like Consultant, Engineer, Biologist. The job title should be the first word in your headline.
2. Action Verb
Pick a right action verb for your current position. It's actually what you do for a living so it might not be hard.
3. Object of Action Verb
If you're a teacher and the teaching is what you do, what do you actually teach is equally important in the headline.
4. Purpose of your action
Why do you do your job? What's the purpose of your action?
Summary
1. Introduction
Job title + years of experience. (I'm a software developer with 5 years of experience.)
Current goal. (I am looking for new opportunities in the field.)
Combine these 2 into one sentence by using the magical ", and". (I'm a software developer with 5 years of experience, and I am looking for new opportunities in the field)
Describe yourself with the 2 essential qualities you have. Select 2 adjectives that will best describe you. I am a hardworking and gritty professional. 
2. What you did and completed
I built web services.
Add information about the client, the place and the time.
I build web services for the banks our company partnered with in 2018. 
Use transitional words like _also, in addition, finally _to put all these together.
For job: I am seeking employment or new opportunities in the field.

For showing our work and connecting: I am hoping you will look at my site and letting me know what you think.

For selling: I am hoping you'll look at my products and think about purchasing one.

Part 1 & 2 combined: I am an accountant with 5 years of experience, and I am seeking new opportunities in the field.
3. Additional Skills
My skills include computer programming and web design.

I am skilled in computer programming and web design.
Media Captions
Your ePortfolio should showcase your accomplishments with some media. Captioning them correctly would be an essential part of that.
Here's a website that I created for the "XYZ Holdings" in Hong-Kong in 2019.
Start with here is or this is (here are or there are)
Name what you're displaying
Add client, place, and date.
Make it longer:
Essential characteristics of your work. (by feeling and seeing your product) Avoid general words like good or nice.
How your product helper your client (Who you worked for and how it helped)
Positive feelings about your work. I am interested in this picture _rather than _This picture is interesting.
These chairs are durable and custom-designed. It helped the Johnson family seat up to 30 guests for their 20th anniversary. I am delighted about these chairs and the results.
Resume
Education section
Write about the highest educational degree you've received in first. Up to the high school, you should call it diploma. _After that, using the word _degree is more preferable.
Types of degree:
Associate's degree - up to 2 years, technical skills-oriented, no research skill is developed. ~Associate's Degree in Landscape Design
Bachelor's degree - 4 to 5 years in college or in university, technical and theoretical knowledge is developed. ~ Bachelor's Degree in Computer Science
Master's degree - a graduate degree, 1 - 2 years, specialization, highly research-based. ~ Master's Degree in Physics
Doctorate degree - 3 or more years to complete, highest degree. ~ Doctorate Degree in Spatial Geometry
Where did you receive that degree?
Name of university/college
City/Country name or location
Bachelor's Degree in Computer Science. The University of British Columbia, Vancouver, Canada.
Remember to indicate the period of time that you've attended.
Bachelor's Degree in Computer Science. The University of British Columbia, Vancouver, Canada (September 2010 - June 2014)
Professional experience section
Levels of job title:
Intern, Trainee - Didn't yet complete the school, just volunteering the company to gain experience ~ Electrical Engineering Intern
Entry Level, Junior - Have education but not experience ~ Junior Software Developer
Senior, Lead, Principal
Contract, Freelance
Seems complicated? Here's the type of nurses you can encounter in the US:
Student nurse
Registered nurse
Nurse practitioner
Your accomplishments: 
Use verbs that indicate CHANGE! Here are some big words for big changes you've made in your company: overhauled, reorganized, restructured, revamped, redesigned.
If you still have that job, use -ing form of the verb.
ABC inc.

Senior Software Developer (July 2017 - Present)

Managed...
Increased...
Restructured...
Connect with other professionals in your field
Leave positive comments on someone's work
Avoid commenting on a specific part of the work. Use general compliments (though use it when you really want to complement)
Show interest. Ask WH questions.
Make requests with thanks in front ~ Would you mind looking at my work? 
Use social networks to advance your career.
Introduction + Goal ~ I'm a Bla bla with X years of experience in Y and I'm looking for a new Bla opportunity. 
Use hashtags in your job title.